This is a sponsored post written by me on behalf of ANN INC. CAREERS. All opinions are 100% mine.
ANN INC. is represented by two of the leading specialty retail fashion brands in North America: Ann Taylor and LOFT, both of which carry tons of stylish work wear that I am constantly coveting. In fact, when I was in Toronto a few weeks ago, I made a point to stop by Ann Taylor since we don't have any stores in Vancouver (
yet
). We did just get a LOFT though, so fingers crossed that one opens up here soon!
Now, thanks to the ANN INC. BFF mobile app, you can also gain some insight into the fashion company and have 24/7 access to help you put your "BEST FOOT FORWARD"!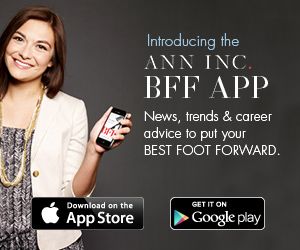 I recently downloaded the BFF app onto my iPhone and have been having lots of fun playing with its many different features. From daily inspirational mantras and quotes from fashion icons to up-to-the-minute fashion news, this app has tons to offer. Plus, for those of you interested in pursuing a fashion career, there is plenty of career advice from fashion leaders in ANN INC. as well as job opportunities at the company.
My favourite feature, however, is the Trends Gallery, which allows you to snap pictures of your outfits to share with the community. If you're on Instagram, use the the tag #bfftrends to be featured on the app!
The BFF app can be downloaded from
iTunes
or
Google Play
.